Repair, Installation, Service & Maintenance Of office Partition in Residential and Commercial Sectors in Doha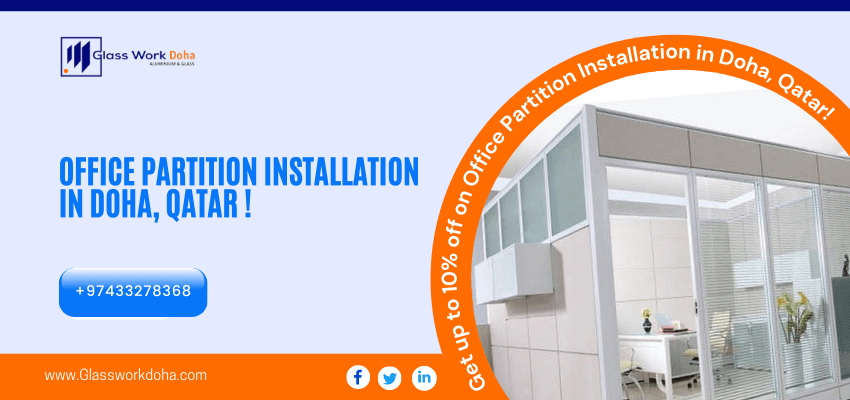 Office Glass Wall/Divider: Trend of open office continues to grow in the professional world, the need for privacy solutions, products that help create a sense of separation from your immediate co-workers, becomes more and more abundant. A few popular products that fits are room dividers/room partitions and desk privacy panels.One of the best things about partition glass walls is they do not restrict natural light. Thus reducing the use of in-door lights. This is certainly the best benefit you can have of having the modular glass. Moreover, designers and architects while installing the glass partition do not need to sacrifice floor space and light diffusion. The reason why so many professional spaces are gravitating towards room dividers/room partitions and desk privacy panels to solve their privacy solution needs is for three reasons.
The first is that they provide sound absorbing features.
These products can be used in many different settings.
And last, room dividers/room partitions and desk privacy panels come in a variety of sizes and styles that customers can shop easily.
Gaining More Popular–
If you visit any large or small office, you will find these glass partitions making the space look appealing. Due to its various designs, textures and other aspects, these partition walls are gaining more and more demand. When you connect with Glassworkdoha.com, the leading modular glass partition Service Provider in Doha, Qatar, you will find different types to choose and install at lowest rates.
Conclusion:-
We've been in the business since 2015 and have built our reputation on getting things done right the first time combined with a great service experience throughout the entire process. Call us today for all your installation needs. Our company install a complete range of office partitions including glass, aluminium in Doha. In office, different employees prefers to work in less disruptive, quiet environments while others may prefer the team spirit and bonding that comes with open space plans. But no matter what, your employee's privacy comes first, our high quality, re-locatable and demountable partition systems, transform any space into a top class working environment. We are open to discuss and understand your exact requirement and our design engineers will quote you best price. Contact us 24/7 to discuss your project with us.
Do you have Office partition queries in Doha,Qatar? Please dial 24×7 customer care number- Call @ +97433278368 (or) Whatsapp @ Click to Chat (or) Email @ Info@Glassworkdoha.com (or) Fill this Enquiry Form .We follow a strict line for each project, and we turn over the best possible solutions to our customers.