Repair, Installation, Service & Maintenance Of Glass Partition in Residential and Commercial Sectors in Doha
Glass Partition Installation in Doha: Glass partition is also referred as glass wall, glass divider, glass panel or glass screen. Generally, glass partitions are used as a divider to create a space that can be used as an office or room. Patterns, textures and colours can be included on your glass partitions using laminates and glass etching as well as using stained glass resins.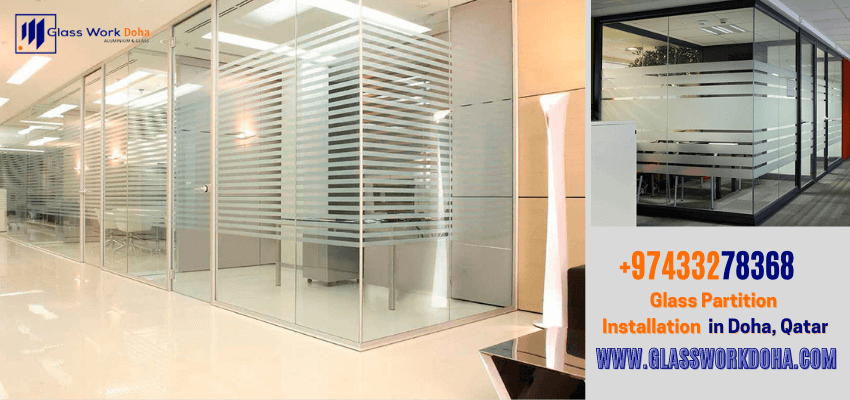 Benefits of Glass Partitioning:-
It gives corporate and modern look
Lower cost than brick walls
It is soundproof thus fostering privacy and transparency
It is efficient as it saves energy that could be used on lighting
Why choose Glassworkdoha.com for Glass Partition Installation or Any types of Glass installation work in Doha?
We've been in the business since 2015 and have built our reputation on getting things done right the first time combined with a great service experience throughout the entire process. Call us today for all your installation needs.Our glass wall partition installation services includes commercial and residential glass for your retail space, office, factory, bungalow & house. We are glass contractors that supply and install all types of glass wall and partitioning for your office, home, and shop needs.
CONCLUSION:-
We are open to discuss and understand your exact requirement for Glass Partition. We gurantee for Lowest Quote for Partitioning. Contact us 24/7 to discuss your project with us.
Do you have Aluminium partition queries in Qatar? Please dial 24×7 customer care number, Call @ +97433278368 (or) Whatsapp @ Click to Chat (or) Email @ [email protected] (or) Fill this Enquiry Form .We follow a strict line for each project, and we turn over the best possible solutions to our customers.