Repair, Installation, Service & Maintenance Of Aluminium Partition in Residential and Commercial Sectors in Doha
What is Aluminium-framed glass partition walls?
Aluminium Partition Installation in Doha: A partition wall system is a best item for creating rooms, separating work areas (according to requirements of offices or home). It consists of modules which are easy to install and later to demount or relocate, where necessary.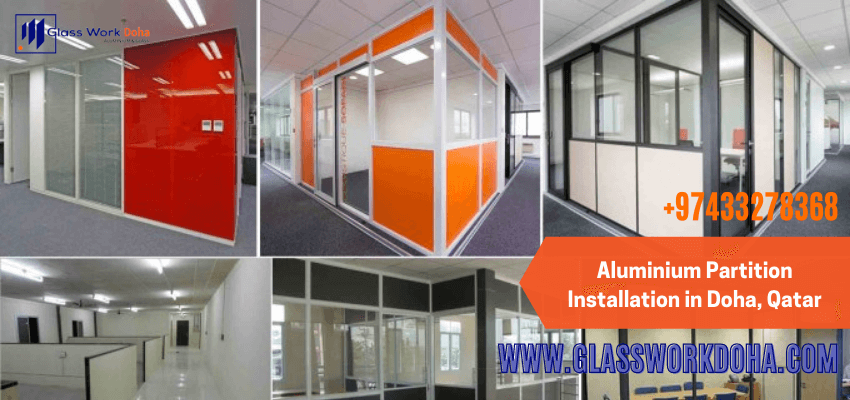 Aluminium Partition In Home and Office
Partition wall design is one of modern interior design trends in Doha, Qatar, especially for separating bedrooms, bathrooms, kitchens and home offices from living areas. Drapery fabrics and glass wall design ideas are among the most popular room dividers and partition walls in Doha, Qatar. Glassworkdoha shares a collection of modern interior design ideas for dividing bedrooms from bathrooms in elegant and contemporary style with tailored solution.
What are the benefits of Aluminium Partition Installation in Doha, Qatar?
It is a perfect fit for modern commercial, home and office spaces. I It also work as room divider with a contemporary industrial touch.
They are highly popular due to the diffrent design possibilities they create, high sound insulation properties and the use of the highest quality hardware.
The installation does not take a lot of time, and the system is flexible enough to be accommodated in the "tricky" spaces.
Aluminium partition can be demount or relocate easily, whenever and wherever you need.
Why choose Glassworkdoha.com for Reliable Aluminium Partition Installation in Doha?
We've been in the business since 2015 and have built our reputation on getting things done right the first time combined with a great service experience throughout the entire process. Our company install a complete range of partitions including glass, aluminium, office partition services in Doha. Doha Office partition installation and Decorative Aluminium Partition wall offers an best solution to creating offices. In office, different employees prefers to work in less disruptive, quiet environments while others may prefer the team spirit and bonding that comes with open space plans. But no matter what, your employee's privacy comes first, our high quality, re-locatable and demountable partition systems, transform any space into a top class working environment.
Conclusion:-
We are open to discuss and understand your exact requirement and our design engineers will quote you best price in Doha. Contact us 24/7 to discuss your project with us.
Do you have Aluminium partition queries in Qatar? Please dial 24×7 customer care number- Call @ +97433278368 (or) Whatsapp @ Click to Chat (or) Email @ [email protected] (or) Fill this Enquiry Form .We follow a strict line for each project, and we turn over the best possible solutions to our customers.